" Since our founding as a state-of-the art medical college in 2009, PIMS has emerged as one of the Punjab's leading and most respected institute. Patients & students are the center of everything we do at PIMS. Our mission is to produce good doctors with compassion & zeal to serve society.PIMS has added a new dimension to medical education in the state with excellent infrastructure and highly qualified faculty. Our brilliant students have brought laurels in academics and co-curricular activities. Our OPD and In-patient services have made reputation for quality healthcare delivery.We are keeping faculty and students abreast with the latest development in clinical and basic medical sciences through workshops, seminars and conferences as a part of our commitment to improve the quality of education and healthcare. "
– Dr. Rajiv Arora | MD Physiology
+91-181-6606000 Extn: 6024 | vp.academic@pimsj.com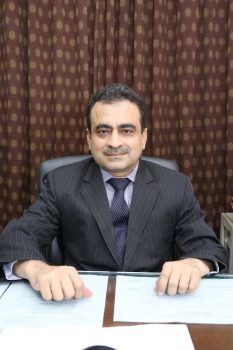 Dr. Rajiv Arora is currently Vice Principal, Punjab Institute of Medical Sciences, Jalandhar. His earlier assignments include Professor at Gian Sagar Medical College, Patiala and Associate Professor at Christian Medical College, Ludhiana. He holds MBBS from AFMC Pune, MD Physiology from CMC Ludhiana & Postgraduate certificate course in Hospital management from National institute of Health and family welfare.
He has been teaching and guiding the Medical, Dental, Postgraduate students and MSc students since 1996.
He has directed and conducted projects of Research with participation of Postgraduates and Non Postgraduate Demonstrators, M.Sc. students.
Serving as a member of the college council, Institutional ethics, anti ragging, animal ethics and other committees.
Serving as college nodal officer for AISHE (All India Survey on higher education).
As coordinator Medical education conducting Basic Course in Medical Education Technology for faculty at Punjab Institute of Medical Sciences Jalandhar.
Research Interests:
Neurophysiology
Respiratory Physiology